Heres my 1941 G33/40 Mountain Carbine. It is all matching and with a one piece Walnut Stock. This is my first one. They are hard to find all matching and in good condition. It seems most have issues.
I put an original G33/40 Sight Hood on it. Next to it is a Sarco Repro sight hood for comparison. Also, have an original G33/40 cleaning rod on rifle now in the 5th picture from the bottom. It is the 11 inch cleaning rod with taper at patch end in that 5th picture from bottom.
I never did get the hand guard off the rifle as it is too brittle and I did not want to crack it. That spring steel clip on the bottom is really attached. I wanted to see if the hand guard was numbered or not. I would assume if it is suppose to be then it is.
Also, I was going to remove the white stuff, but was waiting to get the hand guard off and use lighter fluid to clean it out. The white stuff is pretty hard by now from being in there for years.
Any suggestions on getting hand guard off without breaking it? I have removed the sight screw and lifted the sight leaf. Clip is hard to remove from barrel.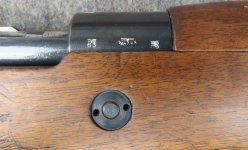 Last edited: