Well I thought I would share my finished restoration project on my 20th District Depot rifle. It was previously sporterized with a cut up stock and the lip of the rear sight base ground off where the handguard sits.
Here is an old thread I started about the rifle and got great information here.
http://www.k98kforum.com/showthread.php?22047-20th-District-Depot-K98k
I thought I did okay of a job with resto except for the rear sight base I used to replace the sporterized one with is kind of damaged around the base screw. The damage was done by who ever removed it from a previous barrel.
The bolt was matching to itself and it was a bSw bolt. The bSw bolt I traded off for some extra parts and another all matching e/280 bolt. I thought a member here could use the bSw bolt more than I could since it was just 10 numbers different than his bSw rifle.
The upper and lower band I found on ebay. They are armourers spares e/1 marked without serial numbers.
The stock I bought from a member here. It is a C marked stock e/18 without any serials. The handguard I bought somewhere on the net. C and e/18 marked and no serial number.
The original sling I bought from jbmauser. To finish it off.
Thanks to all that helped out on information to get this project done.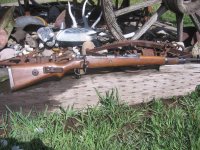 Last edited: