If this rifle could talk, I am sure it would really have some stories to tell.
(Special thanks to User/Moderator Pat for discussing this one with me and helping me to figure out an appropriate offer before I pulled the trigger on it!)
Here is what I have put together on it from my understanding. I will gladly accept any clarifications or corrections if I am mistaken.
This is a former Imperial German produced 1916 JP Sauer & Sohn Gewehr 98 that was "captured" in Poland after WWI. However, a more appropriate term would be that it was left over in Poland's borders after the Armistice, or it was obtained during the subsequent border conflicts during the Silesian uprisings.
I am not referring to this rifle as a Wz. 98, as this was not a Mauser produced domestically in Poland (it would have been stamped PFK Warszawa, maintained the rollercoaster sights, and it would be marked with Wz98 (or similar) on the receiver side rail).
It was refurbished at some point by Fabryka Broni in Radom, given the FB in an inverted triangle on the receiver, and accepted into the Polish military inventory (Small Polish eagle proofmark on the right side of the receiver). FB Radom was in operation between 1927 and 1939, and Poland started to revert back to long rifles starting in 1936, so I am taking a leap here, but I would assume that this refurb might have been done after 1936, once war was looming, Poland started to refurb a bunch of old Gew.98's in inventory. Unfortunately it is a bit hard to prove given the barrel and rear sight (discussed further below). The receivers were re-serialized and prefixed with a "K" stamp on the left side of the receiver
, assumed by some to designate "Karabin" (rifle)
. I have seen 3 other examples that have the same treatment, and this is documented in several Mauser reference books.
Now here is where things get interesting, it looks like this rifle was "re-captured" by the Nazis and reworked after September 1939, as it appears that the barrel and rear sights were replaced (maybe with a Gew.98m barrel assembly?). The serial number that is stamped on the replacement barrel, complete with the "K" stamp. to match the receiver, possibly a force match by the Germans to maintain consistency. The rear sight assembly does not match the barrel/receiver, but matches itself and is dated 1941 under a code. I am not familiar enough with WW2 German proofmarks to understand this code. Again, since it is not matching it is tough to connect the dots with accuracy.
I would assume that such a rifle would be issued to 2nd or 3d line troops and sprinkled around the areas of occupation during the third reich. Now here is where I needed to make a bit of a stretch again:
Given the Century Arms import mark under the muzzle and rough external condition, I know a lot of these "odd Gew.98s" came from an import from Romania/Albania/etc in the 1990's, and I suspect that this came out of this same import from this region of Europe. So this rifle likely was captured in this area by Soviet forces, and lived a pretty rough/abused life post-war under Soviet occupation and ultimately slathered in cosmoline for storage for a future conflict. The bluing hidden underneath the woodline has gorgeous original bluing, but everything external is pretty worn.
Despite its overall condition, I love the amount of history dripping off this rifle. As a German Gewehr 98 style of rifle, it is a bit of a letdown. However, the Polish provenance definitely moves it up a few levels of desirability, at least for me given my collecting focus.
Description/Serialization of Parts:
Receiver:
Stamped JP Sauer & Sohn over Suhl, dated 1916, with "FB" in an inverted triangle on top of receiver, Polish eagle proofmark on right side of the receiver, Stamped Gew.98 on the receiver left siderail. Imperial German proofs on right side of receiver. Serial K 2131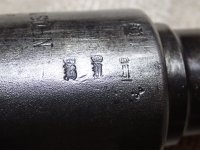 Barrel:
Gew.98m barrel? Serialized 2131 over K, with many waffenamts of eagle over 214.
Front Sight Blade:
Serial: 31
Front Sight Base:
Imperial German proofed.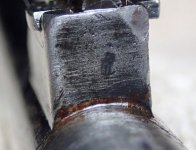 Rear Sight Base:
Right side stamped S/42 with 2x WaA63
Last edited: