Hi to all
New to the forum my first post and also new to German rifles
I recently picked up two German reworked rifles a gewehr 98 and a kar98az
Been having quite a bit of trouble finding out much info on them in there current configuration in particular some of the markings. I wasn't able to find much references to.
Both rifles were full of extreamly hard dried cosmoline i Would say they haven't been fired in years.
They also have had there sights welded / pined in place. Both rifles are mis matched except for the bolts stock and trigger guards that have been renumbered to the receivers quite crudely the stocks have been sanded and metalwork reblued
If anyone could give me there opinion on them ie what service they were reworked for or info on the receiver and barrel markings I would greatly appreciate it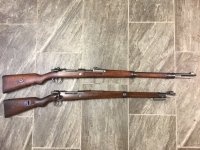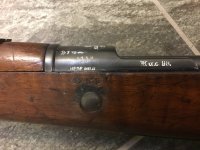 HFGF ?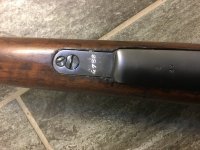 Gew98
Z?