Here's a pretty wild one-- I picked this up with a "take a shot" on Gunbroker. The rifle was advertised as a matching Spandau 1905, but the fireproof was a Thuringian style Eagle, so definitely not Spandau assembled. The early thought was possibly Erfurt assembled, though the pics were not great and the stock had been cleaned. I made an offer appropriate to that and received the rifle today. I was elated to see that it was factory matching except the cleaning rod. While the stock was cleaned or lightly sanded, a coat of ballistol brought it back to life. The metal shows this rifle lived a rough life, but the bluing below the wood is still wonderful. There is also some finish remaining on the front third of the barrel.
After discussing with my fellow Gew98 nerds, we came to the consensus that this is a 1915 VC Schilling, as the acceptance patterns are lockstep with other 15 VCS we have encountered (excluding the receiver---I'll get to that in a moment) The bolt is a c/B Haenel (typical Suhl), and the stock, triggerguard and small parts are all c/Q (typical for VCS) or c/B.
For comparison of acceptance patterns on the non receiver parts: another a block VCS 15:

Gentlemen, I happened upon this today and believe I got lucky. Was in a LGS and a friend asked to see this rifle and I bought it on the spot. Lmk opinions, questions and I'll be more than happy to provide more pics. I don't necessarily collect imperial but may put this in inventory as I...

www.k98kforum.com
The receiver is a bit of a puzzle. It is marked (faintly) Spandau 1905. The 2nd and 3rd acceptance characters do not match known VCS c/Q, and the three crown/letters each have an additional single crown underneath them. While I have seen this style on other early VCS rifles assembled with spare/salvage receivers, this example does not have the "VCS 1915" stamped on top of the receiver ring. The receiver also has the aforementioned Thuringian eagle fireproof, which would indicate to me that this receiver was not on a rifle previously. In any case, quite a puzzle.
The thought on these, was that as the Suhl makers were ramping up, early rifles were assembled at VCS (and possible the others?) from receivers sent in from elsewhere. These seem to have vanished sometime during the "a" block, so this may have been a later example. I would welcome any data to the contrary on these. This is the first matching "start-up" Suhl I've been able to study in depth.
Here are the data:
Receiver 892a
Barrel 892a (S&S BJ 33)
Front Sight 92
Rear Sight Leaf: 92
Sight Slider 92
Ejector Box 92
Trigger Sear 92
Front Barrel Band 92
Rear Barrel Band 92
Trigger Guard 892
Trigger Guard Screws 92,92
Floor Plate 92
Follower 92
Stock 892
Handguard 892
Buttplate 892
Bayonet Lug 92
Cleaning Rod: 00
Bolt body: 892a
Safety: 92
Cocking Piece: 92
Bolt shroud: 92
Firing Pin: 92
Extractor 92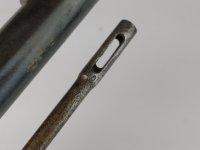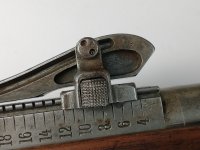 Last edited: