Hi All,
We have a great sticky thread on these already, but I wanted to post updated pictures of a rifle I was extremely fortunate to get from Mike back in February.
One of the most difficult variants of Gew98 to find, many of the few known examples are much like this one-- stock sets which were found loose or mated to a m/m rifle. There are matching ones out there (Craig Brown's being one), but given scant production and high attrition of weapons in WW1, not a lot made it through intact. Beggars, as they say, can't be choosers. A legitimate stock set alone is more valuable than many rifles.
Very detailed information on these can be found here:
https://www.k98kforum.com/threads/radfahrer-gewehr.10100/post-66886
This particular example has a unit marked stock set (3rd Jäger Ersatz Radfaher Kompanie, Waffe No. 45 )with a matching trigger guard assembly and rear band. Mike found the stock with a 16 JPS barreled receiver in it and later added a front band with the hook removed and a bent bolt. The JPS B/R gives this a "depot" look to it. If I ever stumble on a loose Spandau 14 B/R, it would really complete the look. The sling is a Kar98a one, which matches what has been seen in period photos.
The variations from typical Gew98 production are pretty clear--
1) Side mounted sling cutout in the stock akin to a Kar98a, 98b or 98k
2) Bolt cutout in the stock and a bent bolt
3) No quick detach sling provisions on stock or triggerguard
4) Rear band has a slide mounted sling loop.
5) Rear band is secured with a screw on the underside which threads into the cleaning rod nut.
6) Front band does not have the parade hook on the underside.
Interestingly, the buttplate shows that the stock passed through Koblenz at some point during the war.
In any case, here are the pictures. I will link to this thread within the "Sticky" too.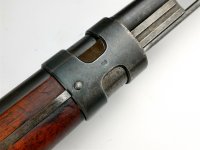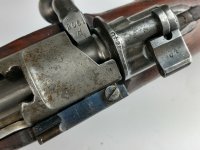 Last edited: